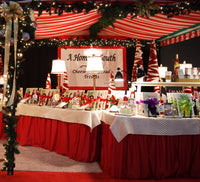 Festivals and Shows
Our collection of hand-painted cheese and bread trivets, ornaments, and cheeseball mixes are available at artisan and craft shows that we exhibit at throughout the Southeast.
We hope that you get to visit and shop with us in person at one of the many shows we exhibit at in South Carolina, North Carolina, Georgia, Tennessee and Virginia.
View Show Schedule
Cheese Boards and Serving Trays
Serve up your favorite cheeseball on our hand-painted trays. Each ceramic tray comes with a spreader that you can use directly on the tray.
Tied Up with a Protective Cover and Spreader
Each tray comes tied up with a protective cover and spreader. The protective acrylic cover allows the option to be placed on the tray while serving foods for easy and quick cleanup.
Teacher and Hostess Gifts
Our hand-painted ceramic trays make for perfect gifts for teachers, hostesses, etc. Each piece will come with a card with instructions for use and care.